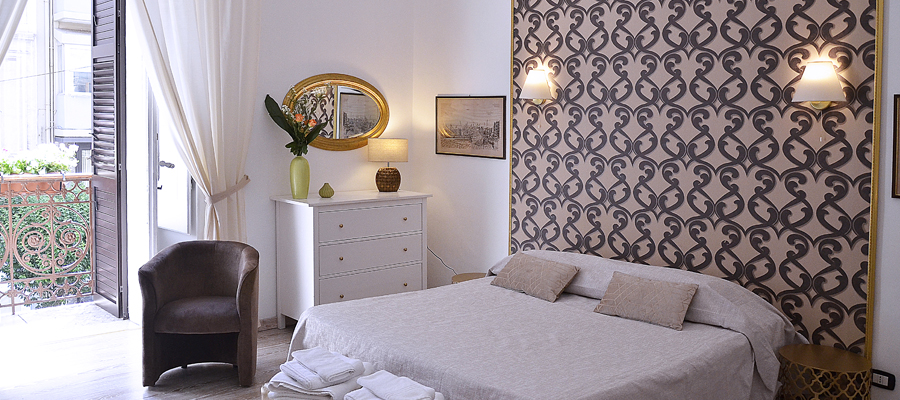 Casa Decò
A special welcome, a stay tailored to your needs
A sophisticated charming residence in a mansion of the early '900, newly renovated, located downtown in the most beautiful area of ​​Taranto and a few steps away from the most important monuments and sites of interest in the town. The Bed & Breakfast Casa Decò is certainly the most innovative and elegant of its kind in Taranto, with beautiful rooms with attention in every detail and equipped with every comfort: private bathroom, air conditioning, minibar, LCD TV, free Wifi. A luxury that's expressed in the attention to details with an international touch in receiving. Our facility has a style that identifies and distinguishes making it a "Home away from Home."
Our guests should feel right at home. Casa Decò is the perfect fusion between the comfort of a hotel and the warm welcome of home. The primary purpose is to provide a friendly welcoming atmosphere, a personalized service that allows you to enjoy typical hotel comforts with bed and breakfast typical prices and hospitality. This formula works fine and is appreciated by everyone: single women, business people, families with children, all searching for calm, sense of belonging, needs of protection, to feel at home.
A luxury that is expressed in the care of details with an international touch in receiving.
We want you to feel like in a family, at home of two dear friends here in Taranto. We look forward to Casa Decò to welcome you!
---
Prices
The term min / max* indicates the minimum and the maximum rate of each room based on the time of year and days of stay. Call us at +39 333 7878176 to get custom quotes.
ROOM
Single room
min / max*
Double room
min / max*
Three beds room
min / max*
Four beds room
min / max*
Suite TARAS
40€ / 55€
45€ / 75€
65€ / 85€
80€ / 100€
POSEIDONE
38€ / 50€
40€ / 70€
60€ / 75€
_
SATYRIA
30€ / 45€
35€ / 60€
_
_
---
Two women, two female workers, two lovers of their land
We are Sandra and Maria, two women, two female workers, two lovers of the land where they were born, two dreamers, two friends who love to travel. We met several years ago for work and immediately a great feeling! The years have passed, and in addition to the feeling a beautiful friendship was born.
Ever since we met we realized with satisfaction the goals we were prefixed and then, one day, we opened a cultural organization to better promote our land, with some success.
---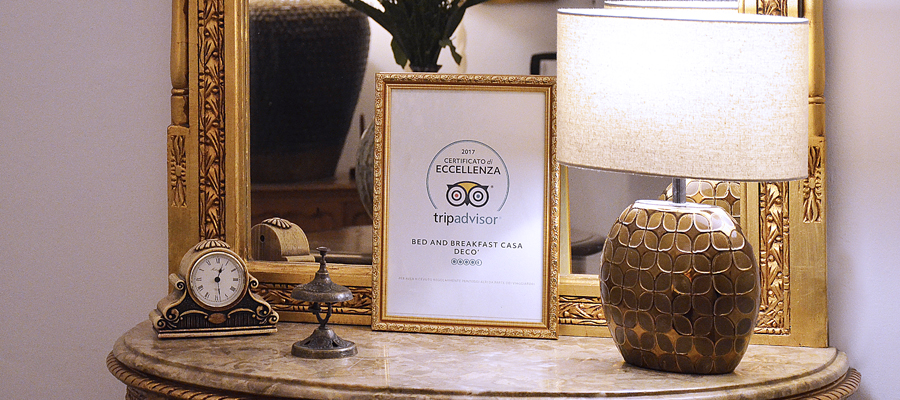 May 1, 2012
The idea of opening our Bed and Breakfast
On May 1, 2012 came the idea of opening a Bed and Breakfast in our beloved city, a great effort to find the right place, choose the furniture, renovate the apartment, but what fun, many laughs and how much work! Now what? It's up to you. Come and visit us, we welcome you to the best!